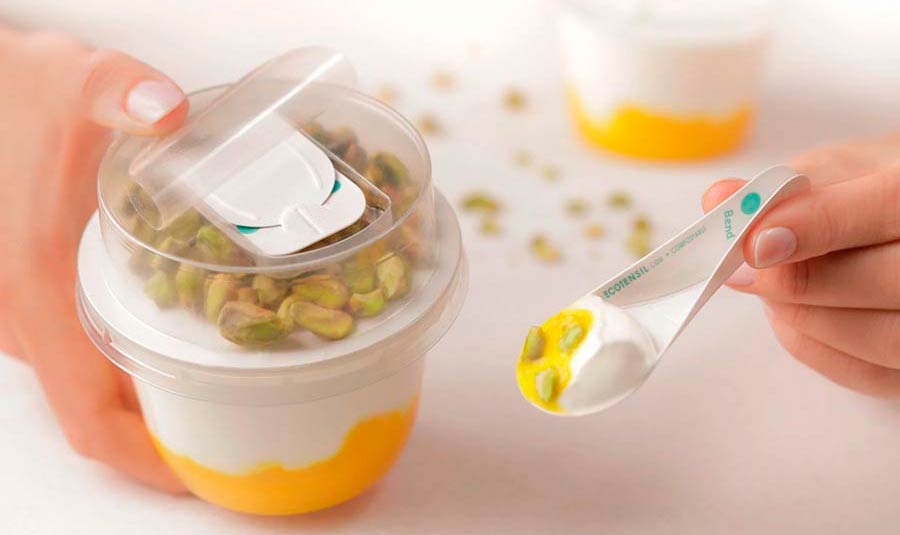 Since July 2021, the law prohibiting the use of disposable plastic tableware comes into force in the European Union, which certainly creates a lot of problems for manufacturers. This prohibition concerns not only plates, cups, but also forks, spoons, knives, coffee sticks, cocktail tubes, etc.
Many companies are already ahead of the curve and are removing elements of plastic tableware from their packaging, replacing them with more sustainable ones. So, plastic coffee sticks have long been replaced by wooden coffee sticks, and plastic plates and cups in many cafes have been replaced by the cardboard ones. Many beverage manufacturers, such as the British company Aldi, are refusing the use of plastic tubes in their packaging, replacing them with cardboard ones.
But what alternative to spoons can be found? The American company EcoTensil came to the aid of the Europeans, presenting the AquaDot EcoSpoon product to the European market, which is already well-known in the USA. These are especially durable plastic-free folding cardboard cutlery. And although you can't eat soup with such a spoon, it is great for most products where plastic spoons were previously used: mashed potatoes, yoghurts, ice cream, salads, etc.
AquaDot cutlery is a ready-made replacement for plastic. Among other things, they work perfectly with existing packaging and processes, without requiring changes in equipment. The material of this cutlery has been developed by EcoTensil for a long time and is their patent. The cardboard from which AquaDot is made is very durable and pleasant to touch, does not affect the taste of products, and at the same time is completely recyclable. "We've spent the last decade perfecting the silky taste, smooth edges, structural strength and overall appeal of all our cookware," says Peggy Cross, EcoTensil Founder and CEO.
Many food processing companies in the European Union have already appreciated this alternative to plastic.
Materials from websites ecotensil.eu, packagingeurope.com were used.