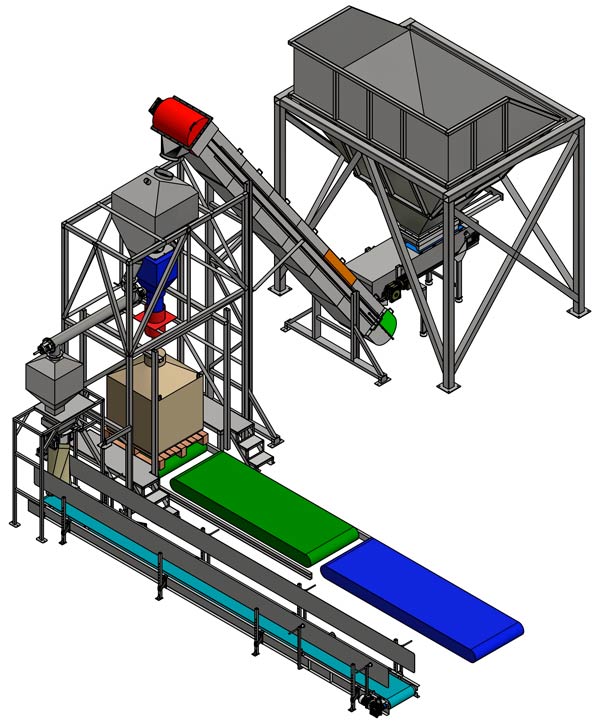 Prehistory.
A large company from Dnipro, specializing in the processing of sunflower seeds, decided to start packaging a by-product from its production of "meal" in soft containers "Big-Bag" and in open bags with subsequent sealing.
The following difficulties arose during the implementation of this project:
The product is very dusty and uneven in composition, has large solid inclusions in the dusty mass and is explosive.
Dosing accuracy should not exceed 0.2% of the given dose.
The storage hopper must be installed in a different room.
Massive and dimensional line must be mounted in the finished room.
Work done.
Our company has developed, manufactured and installed an automatic line for packing meal, fully meeting the requirements of the client.
This line allows you to automatically pack the meal into soft containers "Big-bag" and open bags with their subsequent sewing. The maximum productivity of the line was 20 m3/hour of product packed in different containers. With this performance, the dosing accuracy, regardless of the given dose, was 0.2%.
All electrical components of the line were manufactured in explosion-proof and dust-proof design, which prevents the product from catching fire during its packaging.
Employees of our company carried out the installation supervision of this line.
More information about the presented line can be found here.
Reviews from our clients:
The supplied equipment helped to realize the sale of a by-product from the production of the main packaged product, reduce labor costs and increase the income of our company. We are very grateful to the company "Omela" for the individual approach in the manufacture of equipment!