Horizontal packaging machine "flow-pack" with bottom film feeding 051.55.450X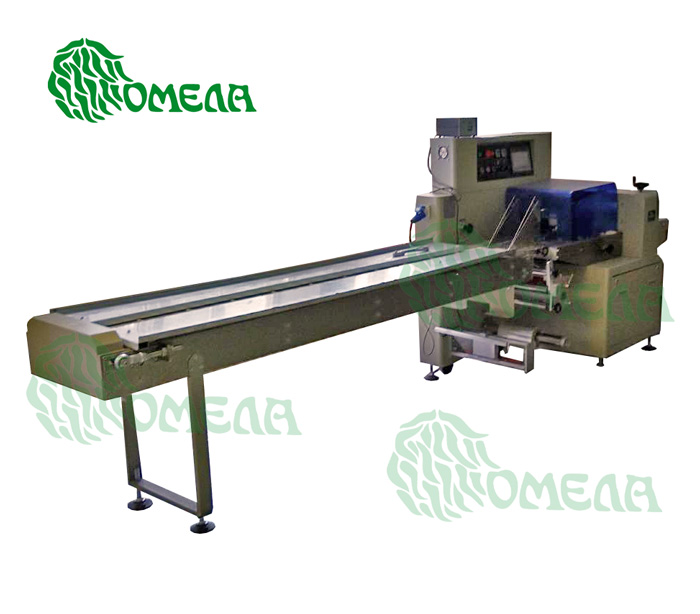 For packing piece goods in bags of the "pillow" type. As well as group packing.
The X series bottom feeding horizontal flow packaging machine is perfect for single or group packaging of goods for various purposes. It should be especially noted that the goods to be packaged may not have an exact constant shape or size, and may be fragile or soft. Thus, the equipment is perfect for packing pita bread and other bakery products, jelly candies, disposable tableware, vegetables and fruits, etc.

The products are packed in "pillow" bags. As packaging materials, heat sealable laminate films such as OPP, aluminized, POPP and other laminated heat sealable packaging films (except for pure PE) can be used.

The technical features of the machine include:

Two asynchronous electric motors and PLC controller for smooth adjustment of the bag length and cutting;
Friendly Russian-language interface, which provides convenient and quick setting of parameters;
Self-diagnosis function, which clearly displays the reason for the failure;
Highly sensitive photoelectric sensor for automatic tracking of photo marks, which, unlike the function of manual input of cutting parameters, makes welding and parting more accurate;
Separate temperature controlling system which allows the use of different packaging materials;
Stopping the machine in the selected position without sticking to the knife and losing the film;
Reliable performance, convenient service and operation. 

As additional devices not included in the package, you can purchase: Dater, Euroslot, gas filling device, alcohol injection. In addition, it is possible to replace electric motors with servo drives.